Recent Testimonials
Below is a selection of client testimonials from recent wedding, renewal of vows, commitment, name giving and funeral ceremonies.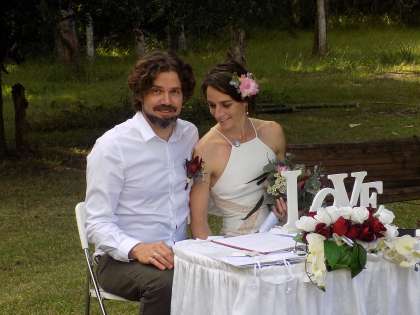 Brooke & Darren Williams
Location: Port Macquarie
Jenny we had such a beautiful day.Thanks so much for making it happen for us.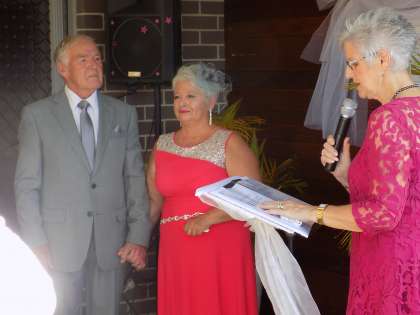 Anthony & Annabella
Location: Glenview Park, Yippin Creek
Thank you Jenny for a lovely wedding you did a wonderful job, Annabella and I thank you very much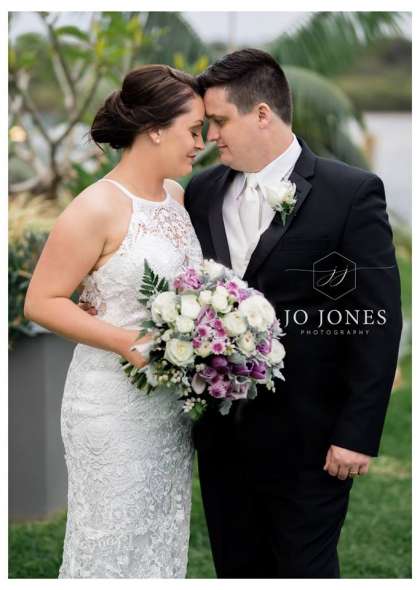 Claire & Anthony
Location: Sails Resort, Port Macquarie
To say thank you for all your work for our wedding day. We loved working with you and appreciated the time you spent on planning the perfect Ceremony for us.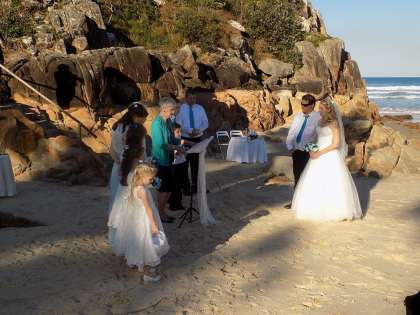 Sally & Rob
Location: Little Bay Beach - South West Rocks
Thank you once again for our beautiful ceremony we both loved it.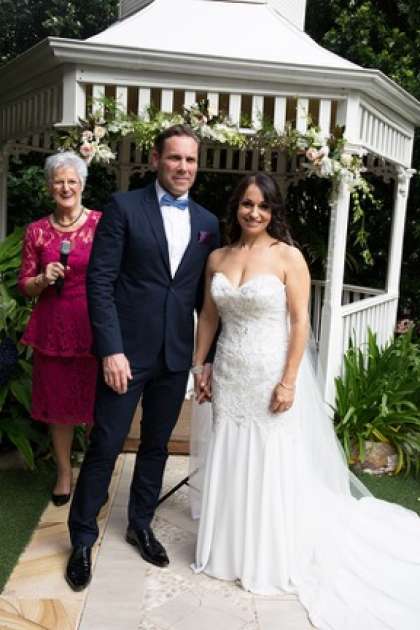 Ree & Peter
Location: Enchanted Garden, Curzon Hall, Marsfield
I just wanted to take this opportunity to thank you so much for being our celebrant at our
commitment ceremony in October. You spoke so beautifully and you made us relax!
Your attention to detail in the day's preparation, sand ceremony, readings and run sheet was fantastic.
All our guests could hear you and us (which was important to me), and that made them feel part of our day that so much more.
We chose you because of your warm and friendly personality and we are so happy that we did. On the day, you
were more than a celebrant, you were our friend.
All the very best to you and Alan!
Ree and Peter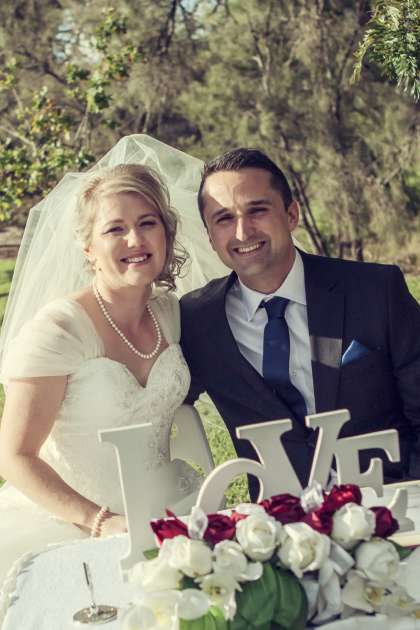 Kylie & Keith
Location: Burnbrae Vineyards, Mudgee
Thank you for helping to make our special day so perfect Jenny.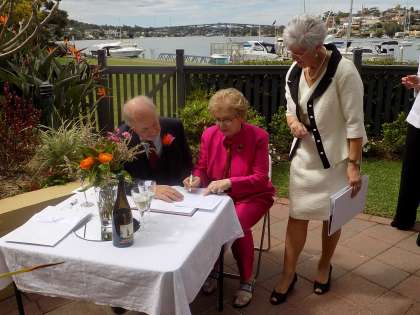 Christine & Graham Nash
Location: Canada Bay, Sydney
Jenny McKenzie who did a great job as celebrant and on the right is Graham's brother Huw and behind me my dear friend Victoria who organised everything including cooking all the food herself we are off to India on a photographic tour together next week also organised by Victoria.
Thank you Jen everyone enjoyed themselves immensely and we have already had visitors in Dubai from that Day both Lev and Victoria as well as Terri and David Bruce and more to come through the year. In large part it is was due to you and Victoria and of-course our lovely guests.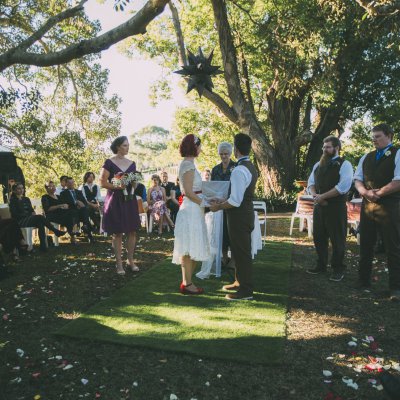 Lauren and Joshua
Jennifer McKenzie was a great celebrant for us. From the day we had our first meeting she was very enthusiastic about our plan for the wedding, almost like talking to your mum about her daughter's big day. We discussed our ideas with her such as a circular ceremony complete with a ring warming ceremony and she worked with us to make it all so perfect.
Jennifer's extensive readings collection allowed us to create our own personal ceremony from her materials as we were not able to write anything near as beautiful. She was heard clearly and the music was seamless with the help of her lovely husband Allan and their great little PA system, which they kindly let us borrow for more speeches.
Jennifer was brilliant I would recommend her to anyone who wants a bubbly, friendly, flexible celebrant who can also pronounce really difficult last names perfectly!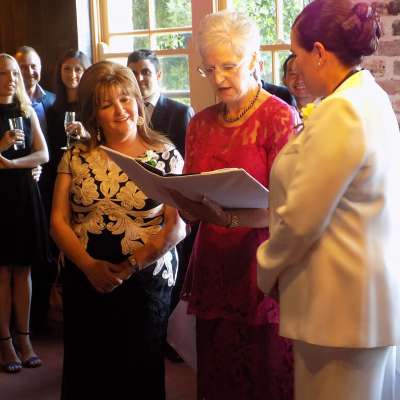 Tina & Kate
Location: Italian Village, Circular Quay
Hi Jenny
Thank you for everything you are sincerely wonderful on every level. We can't thank ypu enough for how your contribution helped make our event run smoothly. You loked beautiful and represented as so well.
Thank you,. Everyone thought you were wonderful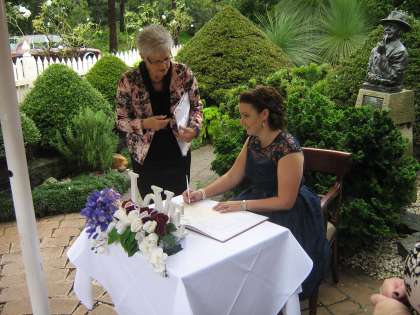 Daniel & Kylie
Location: Banjo Paterson Cottage
I first met Jennifer at my Nephews naming day and was instantly impressed with her friendly, caring and professional approach.
When it came to looking for a Celebrant for our wedding Jennifer was the first person we contacted and we weren't disappointed.
Our special day was enhanced by your attention to detail and understanding of our requests.
Thank you for being a part of our wedding day, we certainly highly recommend Jennifer for any occasion.
Daniel & Kylie Thank you again
Eduardo & Ana
Location: Kirribilli
We are so happy to have found you to celebrate our wedding. You were so cool and friendly during the entire ceremony.
We heard lots of good comments about you. We'd just like to say thank you once more for the lovely wedding ceremony. It was just like we wanted…fun and happy!!!
Our marriage certificate and the golden ceremony folder are things we will keep with pride. Thank You Very Much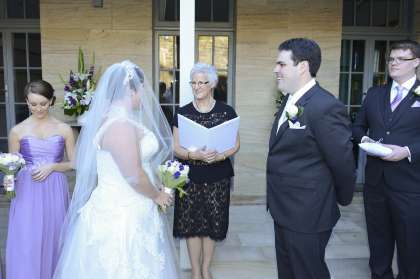 David & Nicole
Location: Mosman Wedding
My now husband and myself were married at Gunners Barracks in Mosman on Sunday 2nd November 2014.
Jennifer McKenzie not only was the Celebrant but also the MC. I would like to thank her for making our day very special. Everything ran smoothly and Jennifer by the end of the evening was like part of the family. All was kept to schedule and everyone has commented on how much they enjoyed our wedding.
Thanks again Jenny for making our day extra special.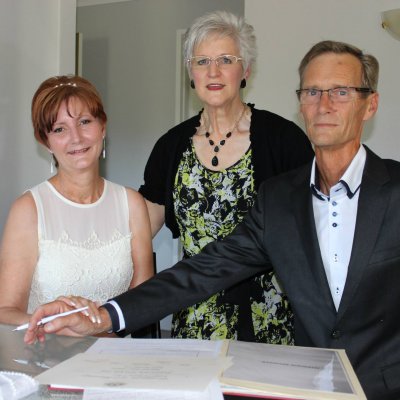 Karen and Alex
Jenny's preparedness to fit in with all our plans was what attracted us at first. When we met her, it was clear that her objective was to make people happy. And she did. A social and caring individual, she made our day memorable, with personalised wedding vows and by the end of the ceremony, we felt that we had been married by a friend. Thank you Jenny for your enthusiasm and professionalism. You will be forever remembered as an integral part of our wedding day.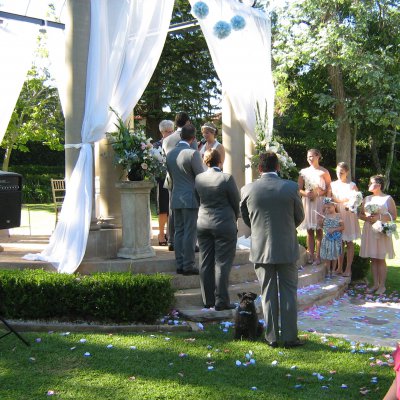 Leah & Craig
Jennifer is a very lovely lady, always nice and smiling, great to have her a part of our day.
She is very understanding and patient. She worked very hard to accomodate our requests and made it personalized to us.
Best of luck for all your future work Leah & Craig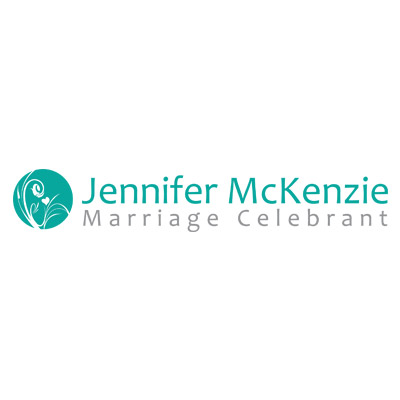 Caroline
Jenny McKenzie helped me every step of the way in the lead up to my wedding in January 2015.
I chose Jenny as our wedding celebrant because of her professionalism, friendliness and her responsiveness to our needs. Jenny guided us through what we needed to do and made herself available to answer any questions we had both in the lead up to our wedding, and afterwards. Jenny provided a unique and tailored service and took care to make sure that our needs were being met every step of the way.
I would recommend Jenny as a wedding celebrant to anyone, especially those who want a personalised and friendly experience.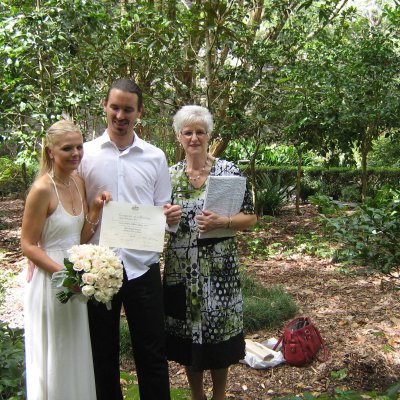 Bronwen & Chad
What we realised with Jenny straight away was that she is a Marriage Celebrant because being part of someone's special day brings her such joy and happiness.
We wanted a very relaxed wedding with no stress and Jenny helped us acheive this and came to our house and went through the process making it all very for us. Jenny is articulate, kind and extremely approachable and everyone thought she was lovely, we couldn't imagine having anyone else as our Celebrant. .
Thanks again, we had so much fun maybe we'll renew our vows next year, just so we can do it again. Will let you know if we do.
Thank you very much Jenny Bron & Chad Gregoire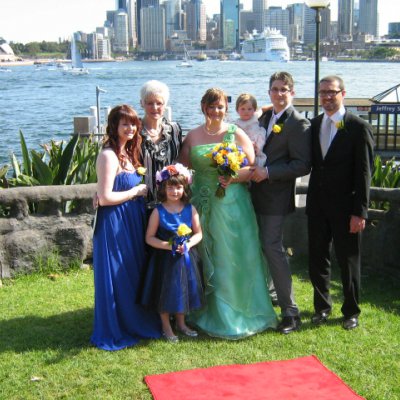 Kerrie-Ann & Philip
Jenny is a lovely person who made our wedding day more then perfect.
Our ceremony was tailored to us and what we wanted. Jenny did a fantastic job and she truly made our special day very special.
I recommend Jenny to all couples who plan on getting married.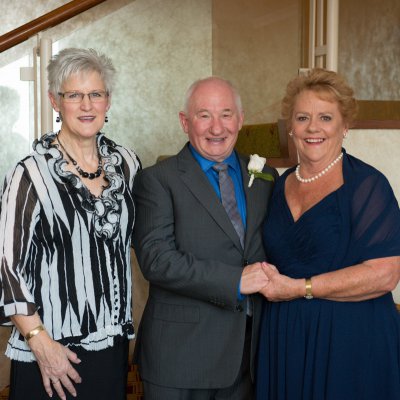 Barbara & Andrew
We left the booking of a Celebrant until the last minute, and nearly missed out on the one month deadline before the wedding day. After initially meeting with Jenny, we immediately knew she was the right person to perform our wedding ceremony. Jenny was at ease with our wishes for the wedding day, and quickly and methodically attended to all the legal requirements. Jenny gave us the opportunity to tailor our ceremony to our liking, by providing us with many fine examples of wording to choose for the different stages of the wedding ceremony.
On the actual wedding day, Jenny quickly engaged with the guests beforehand to outline the procedures for the ceremony. We wanted our wedding day to be informal and enjoyable not only for ourselves, but for our guests as well. Jenny's bubbly and outgoing personality, coupled with her relaxed and confident style, ensured that our ceremony certainly met those expectations. In fact, our guests said it was the best wedding ceremony they had attended.
We certainly highly recommend Jenny for any type of wedding occasion.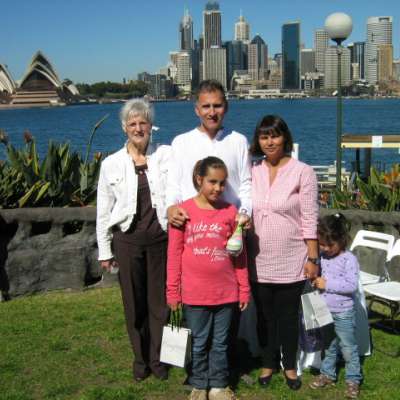 Uli & Marija
Location: Jeffrey Street Wharf, Kirribilli
Thanks a lot to Jenny for the wonderful moment in Sydney.
Our renewal was the highlight at the end of the Australia trip this summer. We've enjoyed the nice session, the wonderful location and the way, how Jenny involved as well Tamina and Lilli in the whole procedure.
We always remember this sunny morning close to Harbour Bridge and you can be sure, that we will come back.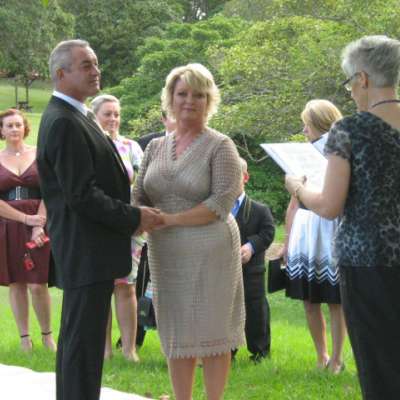 Pauline & Stuart
Location: Cabarita Parklands
From the moment we met Jenny we knew she was the "right" person to marry us. She listened to us and understood the kind of low-key, Non- religious ceremony we were both looking for.
Nothing was ever to much trouble and she went over and above what was expected of a celebrant, especially when we had a few teething problems with our music! We felt so comfortable with her and on the big day her calming influence and warm nature put us both at ease.
My husband and I even invited Jenny and her husband Allan to join us for dinner after the wedding. We both feel like we have made a great friend in Jenny.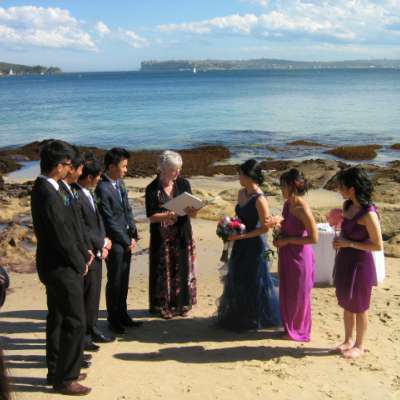 Chun Yen and Krystal
Location: Delwood Beach Manly
Dear Jennifer, You have been wonderful throughout the whole process of planning of our wedding , always professional , calm and friendly . Words cannot expressed how grateful and happy we are with your service, to anyone who is looking for a wedding celebrant , Jennifer is a gem! Once again thank you very much for making our special day unforgettable.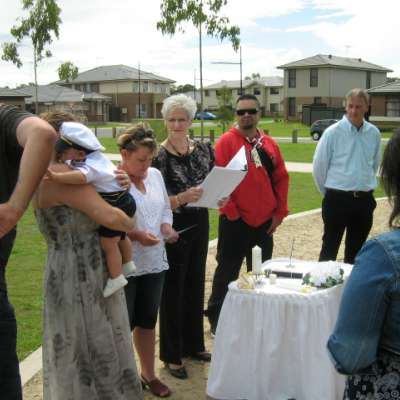 Kylie and Jason Butler
Location: Barmya Park , Ropes Crossing
Hi Jennifer, You were our son Harley's Naming Day Celebrant, we were very happy with everything you bought with you for our day xxx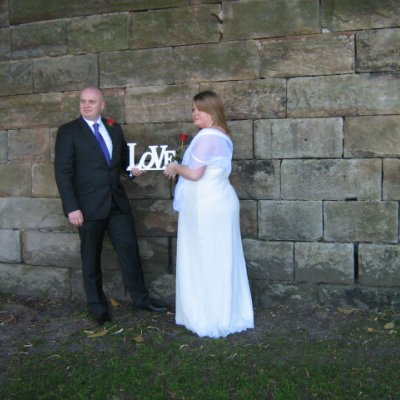 Marie and Jim Danks
Location: Add Ceremony Location
With the shortest duration to our Wedding day Jenny made the whole process stress free and quite enjoyable with her experience and happy nature, especially when it came to finding a location for the service. Our wedding day was very enjoyable and stress free which has made for very fond memories.